World's first and only NFC Forum-certified Medication Adherence Solution:
Finally, after 30 years, the era of proprietary medication event management systems (MEMS) has come to an end. MEMS record the time each dose is accessed from a smart medicine bottle, such as eCAP (www.ecap.biz) or Smart Blister package (www.med-ic.com), including electronic versions of Dosepak (cerepak.com). 
IMC, the global leader in Smart Medication Adherence Solutions, is proud to announce that our Electronic Content Monitoring NFC Tag is the world's only Medication Adherence Device certified and listed by NFC Forum. 
For pharma QA folks there will be no question that only a certified device should be chosen to eliminate the risk of incompatibilities. 
There is no such thing as "NFC compatible" or "NFC device" etc.  choosing IMC's NFC Forum-certified devices assures compatibility across all NFC readers and phones around the world when rolling out Medication Adherence solutions.  
Congratulations to the IMC engineering team for this achievement. 
For more information please contact Joanne Watters jwatters@informationmediary.com
New 'Smart Pill' Raises Ethical Questions
NYU bioethicist Arthur Caplan
says he can imagine a judge using Proteus to enforce medication as part of a sentence: miss a pill, and your parole is revoked. "The temptation in the legal system to say, 'I can monitor you and make sure you're not a threat' is going to be huge," Caplan says. "Maybe that's good, maybe it's bad, but it's a different world than saying I consent to taking these pills." Those court orders are rare at the moment, since there's no way to ensure a patient is taking medication outside of a controlled treatment facility — but as pill-tracking becomes easier, those measures could become much more common.
Medication Adherence Solutions for the Big Data Age
IMC makes IoT connected Med-ic Smart Blisters, eCAP Smart Medication Bottles, CoolBlue temperature aware Smart Pack for syringes and custom products. IMC is active in the AI enabled digital health field, and offers its own secure CertiScan clinical research adherence cloud as well as the Medopad digital health platform worldwide. IMCs latest Lilipond AI project is aimed at detecting opiate abuse early enough to avoid addiction; focussing on prevention. Our solutions are connected through our CertiScan Adherence Cloud and partnerships with global health platforms.
Unrivalled 3 sigma dose event accuracy, support track and trace logistics, detect tampering, fraud, diversion and much more.
Experience the latest generation of award-winning Smart Packaging.  The power of connected smart packaging and innovative adherence technologies is now in the hands of the patient. Global digital mobile health platforms connect patients and their data directly with their care teams to assist in behavioural modification and support both AI and human clinical decisions.
"Allowing nonadherence to go unaddressed results in spurious data that can lead to erroneous conclusions (underestimation) of an IND's effectiveness, with resulting downstream effects on all those for whom the drug, if approved, will ultimately be prescribed." Allan Wilson, MD PhD., President and co-founder of IMC.
The gold-standard solution to the problem of patient non-adherence with prescribed medication for unit-dose blister packaging.
eCAP™ is your smart bottle solution for monitoring adherence. Each opening is recorded in real time.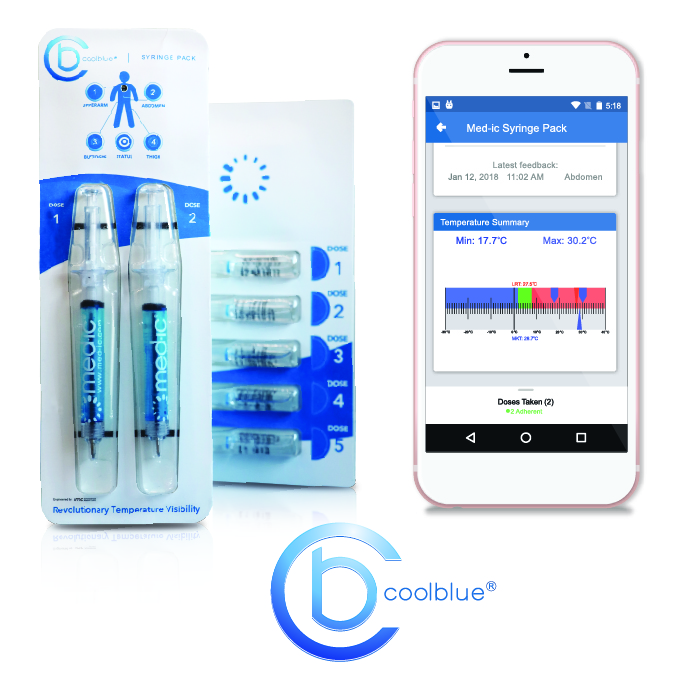 CoolBlue® AI offers built-in temperature excursion monitoring as a companion to Med-ic smart blisters, syringe packs and eCAP bottles.
A discreet real time electronic symptom checklist that fits conveniently in a pocket or purse.

The CertiScan® RFID Reader and associated Software is IMC's proprietary, secure solution to downloading Med-ic® ECM© data. The compliance data captured by the reader are stored on a PC where they are displayed via an intuitive interface, allowing the clinician to interact knowledgeably with the patient around medication-taking behavior. CertiScan is compliant with 21 CFR Part 11. 

IAP Labs is a division of Information Mediary Corporation and was formerly known as XINK Laboratories Ltd., which was acquired by Henkel (ex- National Starch) on June 1, 2006. IAP Labs is dedicated to the development of intelligent and active packaging technologies. IAP Labs Inc. provides development, prototyping, testing, and production of intelligent packaging, printed electronics, printed sensors, and pharmaceutical smart labels from its Ottawa-based facilities (IAPLabs.com).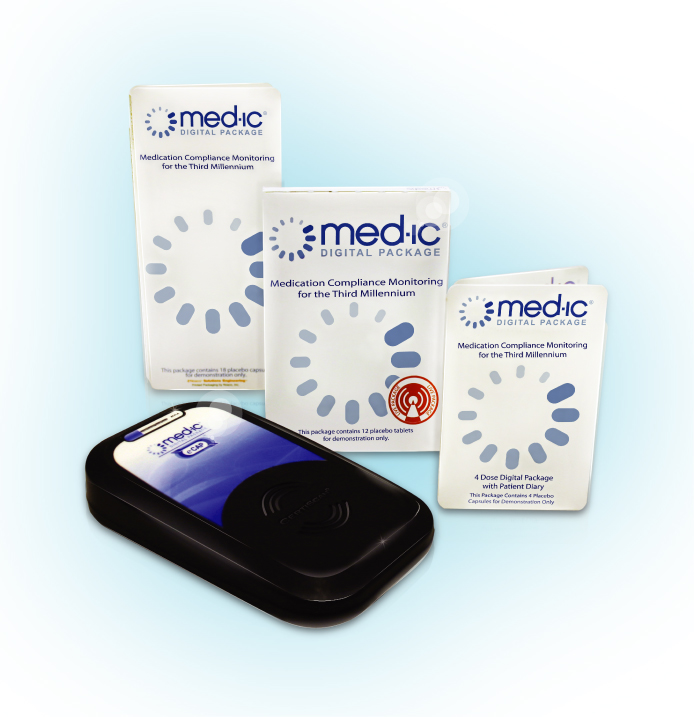 When accountability to making medication adherence count matters, the Med-ic Smart Blister is the most powerful accurate solution available in health technology worldwide. Unrivaled 3-sigma accuracy makes the Med-ic Smart Blister the leader for smart packaging in clinical trials, specialty pharmacy through commercial branding.
Overview

Designed for use with blister packaging formats, the Med-ic Smart Blister monitors medication adherence one unit dose at a time, real time.

Med-ic Smart Blister is available in child resistant packaging that includes Keystone's eco-slideRX®, the F1-rated Key-Pak® or the WestRock Dosepak® series formats.

Specialty pharmacy use for calendar packs, multidose or polypharmacy. Each Med-ic Smart Blister can include on-board temperature sensing and tracking for sensitive medications, such as monoclonal antibody drugs.

Features & Benefits

Records adherence; Improves adherence

Android / iOS

Discreet

3-sigma event accuracy

Technology low impact

Tamper evident

Smart calendar blister packs

Smart polypharmacy

Unit-of-use traceability

Serialization and FDA DSCSA

Use Cases

Clinical trials using blister packaged medication (phases 2, 3, 4)

Commercial products where adherence and/or temperature are critical

Chronic disease management

Brand retention through patent extension

With populations at high risk for non-adherence (elderly, psychiatric etc.)

Product Brochure

Click here to download the product brochure.
Med-ic® CoolBlue®
Revolutionary Temperature Visibility
CoolBlue® AI offers built-in temperature excursion monitoring as a companion to Med-ic smart blisters, syringe packs and eCAP bottles. CoolBlue® AI is a built-in component of IMC's smart packaging and therefore offers attractive price-performance.
Product Overview

Instead of a difficult to interpret continuous temperature curve, CoolBlue® AI evaluates storage conditions in real time, calculating and recording temperature excursions, Tmin/Tmax, MKT, and time within programmable ranges. CoolBlue AI can also be configured to calculate dynamic best-before (or use-by) dates from real time temperature exposure data.

CoolBlue® AI-enabled smart packages are scanned with NFC-capable devices (eg. iPhone), and in the event of a relevant temperature excursion (eg. > 10 min exposure to > 8°C) the companion app displays a warning to the user that a significant excursion has occurred.

 

" There is no longer a need
for a separate temperature
logger. "

Advantages of CoolBlue® AI

Low cost wireless programmable
temperature tracking
Records each unit dose removed
Package GEO location
Dynamic package level expiry dates
Unique ID using NFC mobile app to
display data
Onboard analysis of time/temperature and MKT
Validated accuracy better than ± 1.0°C
Licensed for use with single use or reusable
smart package designs
Also works with secure protocol using IMC's
CertiScan® wireless reader
Data can be shared via IMC's secure CertiScan
Cloud or other specified cloud systems
Third party integration via easy to use API
NFC Forum Certified
Eliminates e-waste from external logger devices

Use Cases

Full track and trace - FDA DSCSA

Brand retention through patent extension

Commercial branding

Product Brochure

Click here

to download the product brochure.