Ottawa, May 27, 2015. Information Mediary Corporation (IMC) continues to revolutionize medication adherence packaging with its new eCAP™ child-resistant, senior-friendly, solid and liquid dose dispenser. The new eCAP™ will be featured at the 2015 NACDS Convention in Denver this August.
eCAP™ can be read using a smart device, such as an NFC (near field communication) enabled Android phone, with which patients can upload their dosing history in their homes. A low-power Bluetooth version is going to be released 2016 and will work with both Android and iOS devices.
"Information Mediary Corporation has been the global leader in smart blisters and bottles since 2002. Med-ic smart blisters can be found in a range of pharmaceutical blister cards used for clinical trials. The combination of Med-ic® smart blister technology and the new eCAP™ standard bottle format gives pharmacy chains, brand managers, and clinical trials groups easy access to the best of both worlds with our smart, eco-friendly designs", says Michael Petersen, Chief Operating Officer of Information Mediary Corporation.

All-new design.  >  Reminder option.  >  Wireless connectivity.  > "At a glance" views of patient compliance with dosing schedules > Reports.
eCAP is validated and benefits from continuous quality improvement (CQI). It can be custom-built with visual/auditory reminders and temperature sensors.
As for Med-ic, compliance data are downloaded with a CertiScan RFID Reader and Software or any NFC- or Bluetooth LE-enabled smart phone or tablet. The data can be viewed via an intuitive graphic interface or stored in various formats for later analysis. eCAP compliance data can be used in a number of ways in both research and clinical settings.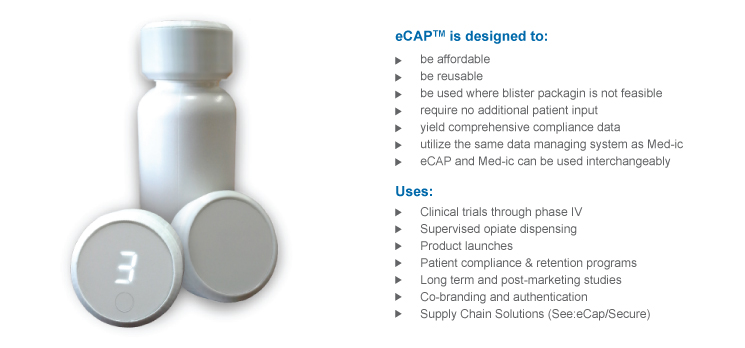 eCAP is part of a growing RFID suite of Med-ic Electronic Compliance Monitor products